Why people still lock themselves out
05/10/2014
Back To Blog
Do you still lock yourself out? Do you still have a key? A house lockout was a major problem a few decades back when people didn't have the knowledge of keeping a duplicate in their bag or of the possible dangers. Today, all we talk about is the ways to avoid such incidents with prudent preventive methods, technology had made enormous leaps forward, societies are different and we use different means for having access to our properties. Isn't it a wonder that people still manage to experience house, office and vehicle lockouts?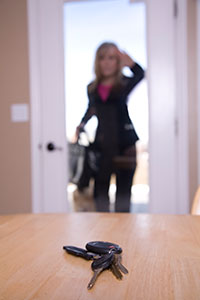 New age keys still need protection
We have the pleasure of living in high tech worlds and that comes with many amenities. Our homes and offices grew bigger along with our staff and families. Properties became smart and various devices are operated through keypads, computers and remote controls. The lock industry hasn't been remained indifferent to the major technological changes. On the contrary, it is adapted in the new age like a glove in the hand. People would hardly have to fear about an office lockout when the new electronic deadbolts have swamped the market.
You just to have to remember one code and that's it! No rusty keys, no broken keys, no apartment lockouts. Well, that's easy to say but hard in practice! People do forget their codes, too! Who can blame them! We are all called to remember bank card pins, gate and garage door passwords, and the pins of the computer, laptop and cell phone. Multiply each one by six cards, three computers and tens more of electronic devices and you'll come up with an outrageous number of how many codes we ought to remember.
After all, keys have not retired completely! Even the most high-tech enthusiast would still own some old fashioned mechanical keys. Plus, who doesn't have a transponder key for the car? At the same time, car theft rates are still high and keys do get stolen. So, it is not unusual that people are still locked out of their properties and despite the fact that we live in a high tech age, following traditional recipes and keeping our keys under our care is still important.