When its time to change the lock
05/10/2014
Back To Blog
You know that every machine malfunctions at some point of time or the other. You will find that your lock will not serve you forever. You obviously take the best quality lock for your home, office, locker etc. but after many years of use, you will find that your lock has stopped working properly. Many times we need to break the lock to get access to the locked place when there seems to be no way to get back the access without breaking the lock. At such times too, you will find that you will need to change the broken lock. It is quite easy to get the replacement, but it requires expertise to fit the lock.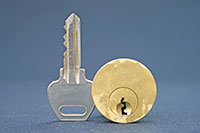 Perfect lock change
A locksmith is the man to call at such times. He will give you a safe installation of the new lock. They will give you better service if they are good. You might also want to know what kind of services your locksmith or the locksmith service offers because if you are using high security door locks that have a complex system, you might want to know whether the locksmith you are hiring is qualified enough to fix it. Other than that, you will find that most locksmiths give you services in cabinet locks, door lock set, installation of lock, replacement of lock, replacement and repair of key etc.
Fast repair, replacement
They might either be a problem with the key or the lock. For that you might need a replacement, repair and installation service if your locksmith thinks that replacement of lock is required. A change of key can also be done in case it is broken. To open the lock, especially a high security door lock, is a tough task. We all lose things, but when we lose keys of a lack of a safe or a high security vault; we are in a more difficult situation. At such times, you need emergency service of a locksmith that is highly qualified and skilled in lock fixing. There are many services in Federal Way, Washington, which provides best locksmith services. You can pick one that is near your home or office, so that you can get instant service.
Keep the help number safe
Whichever service you need, do not forget to keep the number of the service some place where you have instant access to it. You do not want to look for the phone number for the locksmith service if you are locked out of your home, office or car. That is something that you can do right now if you have a lock change, installation and repair service that you trust.
You want best service fast. Even when you are not in an emergency, you would like to get service fast. This is a problem you cannot sit on. So, get help today.