Ways to eliminate the possibility of a home invasion
05/10/2014
Back To Blog
What's the difference between a burglary and a home invasion? Burglaries happen when thieves break into your home while you are not present. Home invasion, on the other hand, occurs even while you are at the supposed comfort and sanctity of your own home. More than just having your valuables taken, a home invasion is more alarming because it is your privacy and safety which was violated by the perpetrators.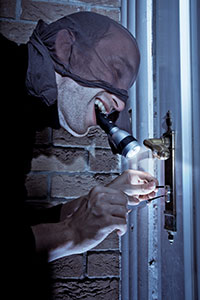 Naturally, nobody wants to go through the harrowing experience of having their homes invaded or burglarized. To prevent this from happening in the first place, what are you supposed to do? Take a look at the following list:
Don't entrust your home and car keys to strangers
Today, simply locking your doors and windows is not enough to prevent break-ins from happening. Burglars actually have sophisticated equipment to force entry even in houses which have the most advanced electronic alarm systems. As such, prevention is key if you would like to eliminate the possibility of a home invasion. First of all, make sure not to entrust your home or car keys to strangers. If you are handing over your car keys to the valet, make sure that your home keys are not attached to it. The same thing holds true if you are leaving your car to get fixed at a shop for a long time – never leave your house keys in the same key ring.
If you just moved into a house, make sure to have all the locks changed and the security beefed up
If you just moved into a house that's already built, you will never know who the previous owners gave a set of keys to. Just to be on the safe side, have all the locks changed and install additional locks if necessary.
Always have a backup set of keys
Finally, always have a set of backup keys handy – be it for your car or your home. Get in touch with a technician at locksmith Federal Way who can create spare keys for you. Keep them in a safe place, or hand them over to a trusted friend or relative. By following these tips, you can eliminate the possibility of a home invasion and keep your family and property safe at all times.